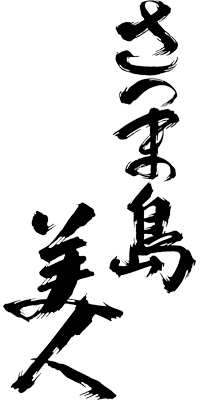 "SatsumaShimaBijin" is one of the most popular potato shochu liqueur in Kagoshima prefecture, and was born in "Nagashima-cho", the northernmost town in Kagoshima prefecture.
"SatsumaShimaBijin" is the result of the skillful blending of shochu from five breweries in Nagashima-cho (Miyauchi Shuzo, Miyanoro Shuzo, Nagayama Shuzo, Sugimoto Shuzo and Minasu Shuzo). The shochu created by the traditional techniques of each brewer is combined to create a deep taste of the original Satsuma sweetpotato, a mild sweetness, and an elegant aftertaste that never gets old.
The sweet potato shochu, "SatsumaShimaBijin" was named in the hope that the men of the island would love it as much as possible. The syochu liqueur has a very gentle sweet potato syochu liqueur that is similar to its hometown, Nagashima-cho, and is loved by the local people.